News that Tory run Staffordshire County Council have decided to restrict road gritting to just A & B class roads during this current spell of cold weather is a further "nail in the coffin" for rural services says Barry Stamp.

Barry Stamp said he well understood that the current prolong spell of cold weather had depleted the Council's stocks of road salt, but this should not mean that the lives of residents living in more rural locations should be put at risk.
Villages such as Bradley, Church Eaton, Derrington and Morton are linked to the main highway network by a "C" class road, which under the new plan will now not be treated.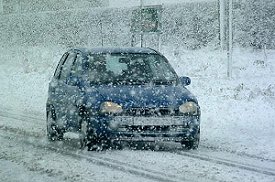 Not only are these lanes used by private motorists but they also carry heavy delivery lorries, public buses and taxies, emergency vehicles, and even more worrying school buses
In frosty weather without salting these lanes will be treacherous and could be best described as an accident waiting to happen.
IThe County Council must rethink this plan and look at other ways of increasing their salt stocks. Perhaps they should talk to the Highways Agency, who have large stocks of salt for gritting trunk roads and motorways. They have aready said that they would be willing to talk to local Councils to see if they could help out.

Abandoning rural communities is short sighted and not a plan Barry can support.